5.01.2008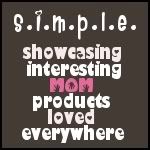 What is this you ask? It is a review blog that Fina'Drea started. It is where mom's review product's that they think other moms would love and be interested in. We review these products and then post about it on the S.I.M.P.L.E. blog. We offer giveaways and coupons all the time.
Come and take a look at our site. It is full of information you will love. And NEW reviews are up everyday. So check back often.
The reason I share this with you is because I have joined the team (Thanks Drea). I am so excited to be able to do this, I can't stand my self really. LOL It will be alot of fun, and I have several fun and exciting products to share with you, so be sure to stop in and try to win one of the giveaways. Who doesn't like to win stuff? It is easy, you just have to sign up. SO GO CHECK IT OUT!